Thought: at any given moment the world's population is living in a bell curve continuum of existence, with most people living near the present and the rest distributed between ~50 100 years in the past and ~50 100 years in the future.

Exhibit A - Senator Kay Bailey Hutchinson and her Happy Days era pearl necklace and antebellum world view, whom I just saw on CNN looking and sounding incredibly dated.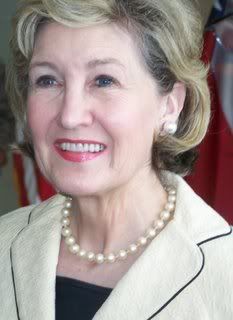 Image Source: Walker Report

Exhibit B - Jim Holt and Mid American Credit Union in Witchita, KS.



Image Source: WSJ.com

Sample quote from the story:

When Mr. Holt attended a dress-for-success seminar that year, he got advice that caused him to loosen the reins on women's boots and mules. But not bare legs. The rule, "nylon hose and dress shoes are to be worn at all times," applied even to business-casual contexts. "We're not New York or San Francisco," Mr. Holt says, wearing ironed khaki slacks, an ironed golf shirt, and crisply creased socks. "We're the Midwest."

I would suggest that final quote be finished with "We're 17th Century reactionaries" rather than "We're the Midwest".