Wednesday, November 29, 2006
Tuesday, November 28, 2006
BBC America continues to deliver the goods.







The folks who put the original The Office on the air, as well as Coupling,
The Kumars at No. 42, Ed vs Spencer and, my personal favorite, Peep Show are now airing Saxondale.


It's genius. The Mustang. The Tull-like [possibly actuall Tull, I can't say I'm fluent enough to confirm or deny] intro music. The jean jacket with faux lamb's wool collar. Brilliant, all of it.
Posted by Art Sindlinger at 10:11 PM |  

Links to this post
Labels: Things that are brilliant, TV, You Should
I know that taking shots at local news is easy. And it's fair to say that if you're watching local news, you get the content you deserve. That said, I can't resist asking what the hell the producers of NBC5 Chicago's 10 o'clock news were thinking last night. First, does no one there believe that somber stories should be covered with a little dignity? They had Marion Brooks reporting on a murder while wearing a pimp hat.


[Note: I couldn't find an image of Marion sporting the pimp hat in question, but I can show you Marion Brooks and a reasonable facsimile of the pimp hat she had on.]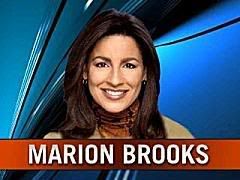 .




Really? Is it appropriate to dress like you're joining the Road Rules / Real World crew at Hogs & Honeys as soon as you close up shop on this little murder story? Am I the only one who is amazed at how tacky and disrespectful that is? Unbelievable.


Next, is anyone paying any attention to story sequence just in case things are shaking out so that your anchor has to make a ridiculous segue, like say moving from this story about a missing college student for whom the Chicago police are searching the bed of the Chicago river, to this story about a lost parrot. Seriously. A lost parrot. No disrespect to the family who lost their pet bird. I'm sure that isn't easy. But seriously, is it on par with a story where the city is mobilizing dive teams to recover someone's missing and possibly deceased son?
I know the bar is low and my expectations should be lower, yet I still found myself stunned at how moronic that 3 minute sequence was. Congratulations, NBC5, you've outdone yourself.
Posted by Art Sindlinger at 7:10 PM |  

Links to this post
Labels: Evidence of Society's Downward Spiral, News, Poor Taste
Sunday, November 26, 2006
Anyone looking for a short-term apartment rental in Paris should beware of the 'customer service' provided by ParisAttitude.com. Below is the full email exchange I had with one of their representatives, so you can judge for yourself how useful they might be for you. But net for me was I took my business to another agency [Lodgis] where my questions and needs were handled much more professionally.

Email 1, received upon submitting an inquiry through the Paris Attitude website

From: Charles de La Ferrière

Dear art SINDLINGER
Thank you for your request and your interest in Paris Attitude. You have selected apartment reference numbers : 1288, 1681, 1448, 701. I am glad to inform you all of these apartments are available for your dates from 24-dec-2006 to 01-jan-2007.

Here is the information about apartment reference number : 1288
The total price for 8 nights is 891 Euros including the agency fee. There is also a refundable security deposit of 685 Euros that you get back at the end of your stay. You will find a detailed description with the pictures of the apartment, either in the attachment or on this link

Related to apartment ; 1681
The total price for 8 nights is 891 Euros including the agency fee. There is also a refundable security deposit of 685 Euros that you get back at the end of your stay. You will find a detailed description with the pictures of the apartment, either in the attachment or on this link

The information regarding apartment ; 1448
The total price for 8 nights is 891 Euros including the agency fee. There is also a refundable security deposit of 685 Euros that you get back at the end of your stay. You will find a detailed description with the pictures of the apartment, either in the attachment or on this link

And the apartment ; 701
The total price for 8 nights is 862 Euros including the agency fee. There is also a refundable security deposit of 663 Euros that you get back at the end of your stay. You will find a detailed description with the pictures of the apartment, either in the attachment or on this link

Please, let me know as soon as possible, if you want to reserve one of these apartments. I will then e-mail you the necessary documents to book it in your name.
I hope to hear from you soon.
Sincerely,

Charles De la FERRIERE.
Paris Attitude
6 rue du Sentier
75002 Paris
Tel : +33 (0)1 42 96 80 45
Fax : +33 (0) 1 42 96 27 86

My same day reply:

Thank you very much for your quick reply. I am glad to hear that these are available. I will review the options with my wife and I intend to confirm one of them with you asap.
Best Regards,
Art

My same day follow up [to which I never received a response]:

Hello again -
I believe we are narrowing down our selection to either 1681 or 701. Can you please confirm if 701 has a TV? I do not see it on the description or in the photos, but would like to double check that before I make my final selection.
Thank you very much for your help.
Best,-
Art

My subsequent request to move ahead with a specific property:

Mr. de La Ferriere:
I have spoken with my wife and we would like to take the next steps toward reserving 1681. Please advise what else you need from us to place this reservation.
Thank you again,
-Art

Mr de La Ferriere's next day response:

Dear Mr Sindlinger,
I just had the owner on the phone and the apartement is available. However there is a majoration of 30% because of christmas period. Therefore the price including the agency fee for 8 days is 1183€. Are you still interested.?
Regards,
Charles de La Ferriere.

My response to the news of this 'majoration' [to which I never received a reply]:

Mr. de La Ferriere,

Thank you for the update. That is a pretty substantial increase. I think I would rather explore some other options. I will continue checking your site for alternatives, but please let me know if the owner of 1681 changes his or her mind regarding the majoration, because we would still be interested at the original rate that was quoted [891 Euros].

Best,-Art

My next day request for more information on other properties listed on their website [to which I did not receive a reply]:

Mr. de La Ferriere -

May I inquire about a few other apartment options? I have reviewed more of your listings and found some alternatives. Could you please advise if they are available and, if they are, what the rental price would be for our desired dates [arrive 24-Dec, depart 1-Jan].
The listing numbers are:
894
1586
1682
1514
1479
1683
We are still very interested in securing an apartment through your service and greatly appreciate your assistance in helping us find a place for our holiday. My wife and I were engaged in Paris and will be celebrating an anniversary with this trip.

Thank you again.
Best,
Art
Posted by Art Sindlinger at 9:41 AM |  

Links to this post
Labels: Travel