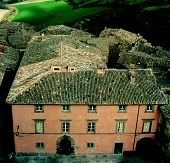 Image Source: JDB

I learned of this outfit from the travel agent who helped Judy and me plan parts of our honeymoon. [Photos here]

It is a general resource for some nice, out of the ordinary hotels [like this one, for example].

We stayed at two, and would absolutely recommend either of them.

La Tana Dell'Istrice is only about 90 minutes from Rome by car and if your visit happens to coincide with the Grechetto grape festival, you will have some cool bonus festivities in the plaza on which this hotel sits. You can also visit their site directly. Sergio and Alessandra are excellent hosts. You should definitely do the dinner with them, which is made up largely [if not entirely] of food from their own land and is paired with wines from their own vineyards. We particularly enjoyed the Nenfro with dinner, and the Muffo is a very nice dessert wine.

Palazzo Leopaldo is in Chianti, has rooms with stunning views, is situated right in the heart of a small, stylish handful of streets with shops and restaurants, including Chiasso dei Portici, for which I cannot find a site, but is noted on some trip advisor boards, in an Australian travel article and by Mario Batali. We snuck a a picture during an amazing dinner there one night. If you're in Radda, you should definitely check it out.